Enpro offers API 5L pipe from API 5L Gr B to X80, product specification level PSL1 and PSL2, Onshore/Offshore and sour services (H2S corrosive environment). Manufacturing type including seamless, ERW (Electric resistance welded), SAW (Submerged Arc Welded). Used for pipeline transportation systems in the petroleum and natural gas industries.
API 5L Standard Scope
API 5L is the standard specification for the samless and welded steel pipes for use in pipeline transportation systems in the petroleum and natural gas industries. It includes the requirements for the manufacture of two product specification level (PSL1 and PSL2) API 5L is not applicable to cast pipe.
API 5L Pipe Supply Range
Grades: API 5L Grade B, X42, X52, X56, X60, X65, X70, X80 Q/M/N/QS/MS/NS
Product Specification Level: PSL1, PSL2, Sour Service, Onshore and Offshore
Steel Pipe Dimensions OD: 1/2" to 2", 3", 4", 6", 8", 10", 12", 16 inch, 18 inch, 20 inch, up to 40 inch.
Thickness Schedule: SCH 10. SCH 20, SCH 40, SCH STD, SCH 80, SCH XS, to SCH 160, SCH XXS
Manufacturing Types: Seamless, Welded (ERW, LSAW, DSAW, SSAW)
Ends Type: Beveled ends, Plain ends
Length Range: 20 FT (6 meter), 40FT (12 meter)or customized
Protection Caps in plastic or iron
Surface Treatment: Natural, Varnished, Black painting, FBE and 3PE (3LPE), 3PP, CRA Clad or Lined
Suffix Letter means
Suffix letter for API 5L Pipe means the delivery condition which these for PSL2 pipe and belong to the steel grade, normally we see the pipe description with API 5L X60QS, or API 5L X42N, X52Q, these letters means:
Letter R: As rolled.
Letter N: Normalizing rolled, Normalized formed, Normalized.
Letter Q: Tempered and quenched
Letter M: Thermomechanical rolled or formed.
Letter S: Comes with NS, QS, MS, means PSL2 for Sour Services
API 5L Pipe Specifications
API 5L Pipe have two product specification level, PSL1 and PSL2, and there are differences for the two levels in each grade.
Manufacturing Types in Seamless, ERW, LSAW, SSAW, HSAW, DSAW
API 5L Pipe in Seamless Type inlcuding Hot Rolled Seamless and Cold Rold Seamless. Outer Diameter for this type normally under 24 inch.
Welded Type inlcuding:
ERW: Electric Resistance Welded, for manufacturing pipes OD under 24 inch.
SAW/DSAW: Submerged Arc Welded (Double Submerged Arc Weldedd), for manufcturing pipes OD up to 100 inch.
LSAW: Longitudinal SAW, OD up to 48 inch.
SSAW/HSAW: Spiral/Helical SAW, OD up to 100 inch.
Product Specification Level PSL1 and PSL2
PSL is the abbreviation of product specification level. The product specification level can be divided into PSL1 and PSL2, it also could be deemed as quality level.
PSL1 for common quality leves where PSL2 is more strictly on chemical composition (CEQ), mechanical properties, nondestructive testing requirement and other test requirements and values.
Chemical Composition of API 5L PSL1 pipe
Chemical composition for PSL 1 pipe with t ≤ 25.0 mm (0.984 in)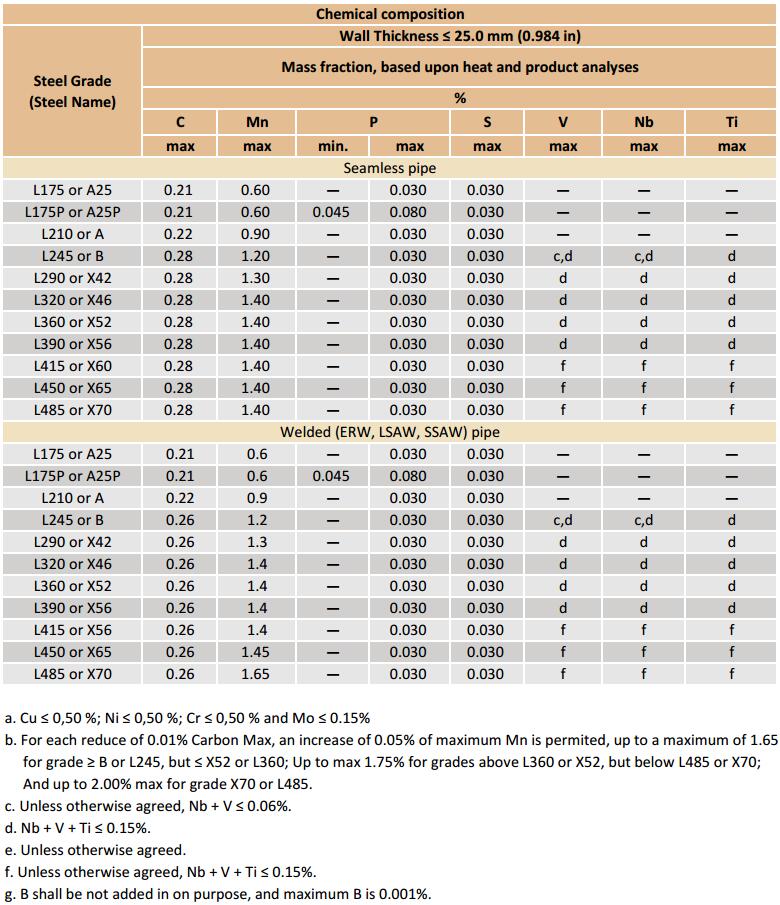 API 5L Pipe PSL2 chemicals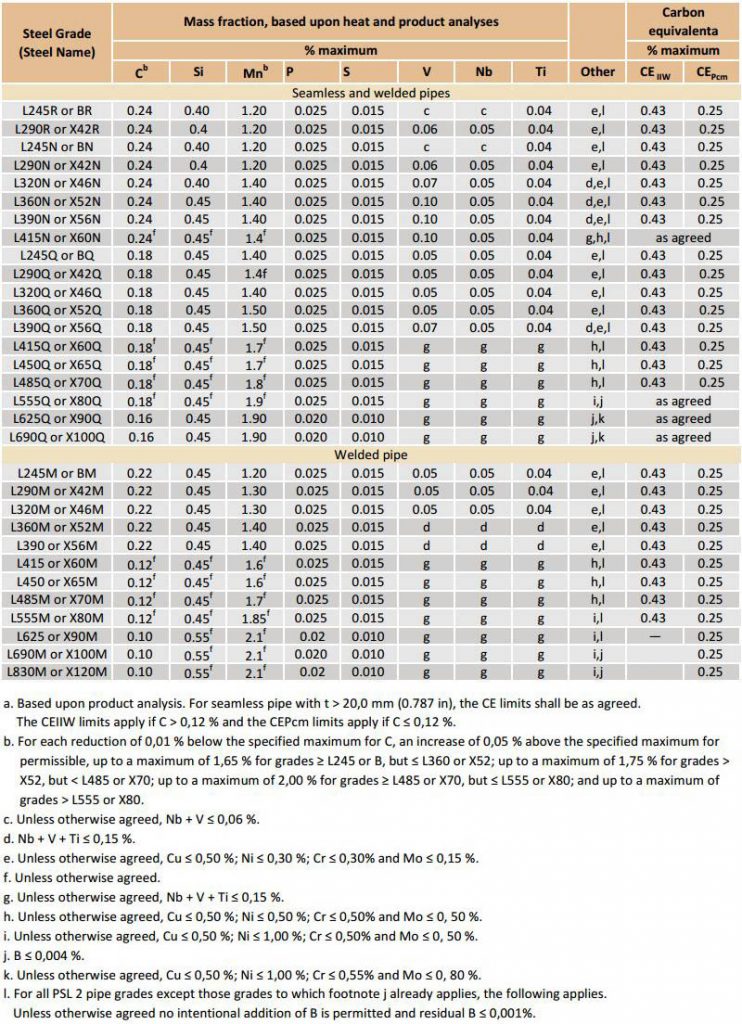 Mechanical properties
Yield Strength and Tensile Strength for API 5L PSL1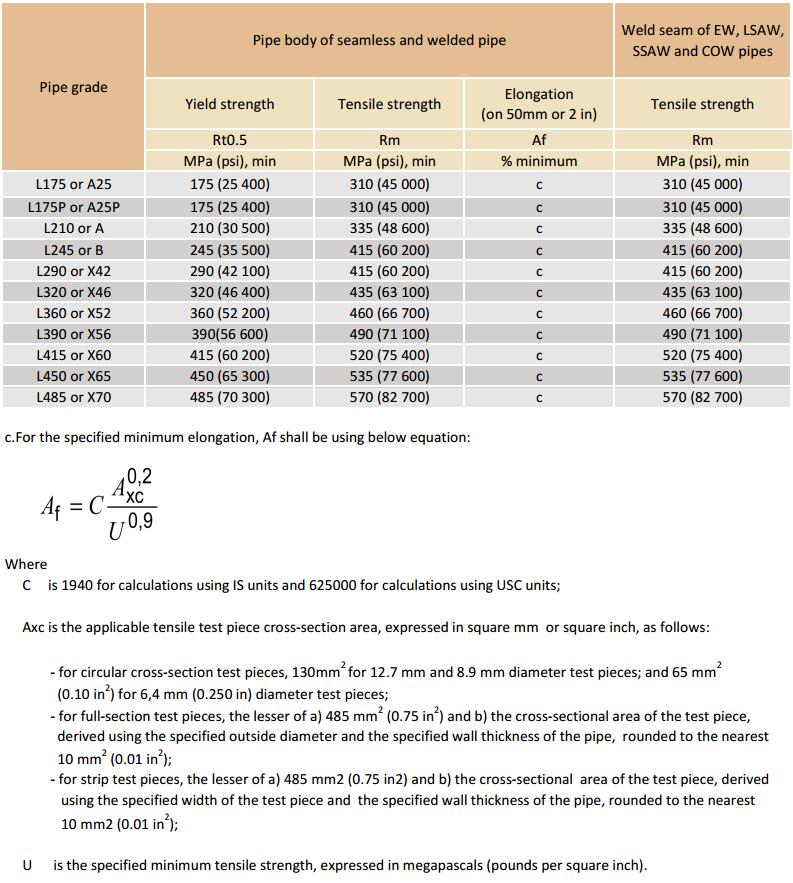 For PSL2 pipe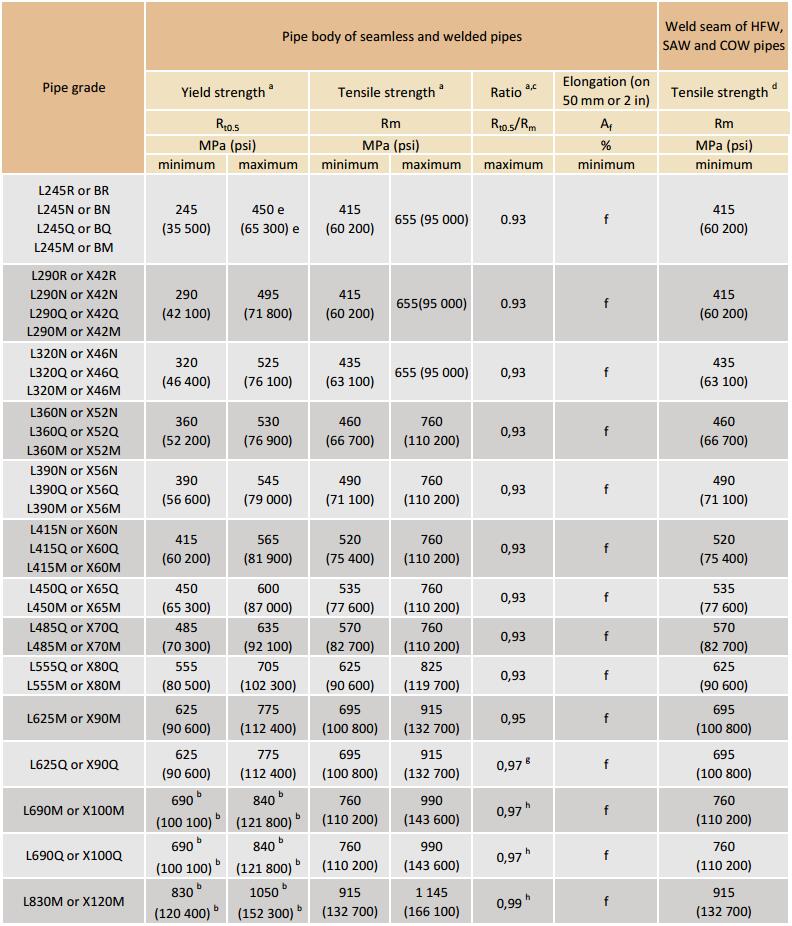 Hydrostatic Test
API 5L pipe shall be performed a hydrostatic test without leakage through the weld seam or the pipe body. Jointers between the pipes no need to do the hydrostatic test where the sections used were successfully tested.
Bend Test
Cracks should not occur in any point of the test sample and opening of weld shall not occur as well.
Please Note: For all bend test, the weld extends to a distance of 6.4 mm (0.25 in) on each side of fusion line.
Enpro offers API 5L Pipe from Top Manufacturers
Material available with seamless and welded in API 5L B, X42, X46, X52, X56, X60, X65, X70.
Related Piping Material
---