ASTM A53 is the standard specification for the carbon steel pipe in seamless, welded, and zinc-coated galvanized pipes. Covers the dimensions ranges from OD 10.3 mm (1/8 inch) to 660 mm (26 inch).
Enpro supply ASTM A53 Grade A and B Steel Pipe with below conditions:
Standard and grades: ASTM A53 Grade A, B. Type E, F, S
Manufacturing types: Seamless, ERW, SAW
Pipe Dimensions Range: NPS 1/8" to 20"
Pipe Schedule Range: SCH 10, SCH 40, SCH STD, SCH 80, SCH XS to SCH 160 and SCH XXS
Ends Treatment: Plain, Beveled, threaded. With couplings.
Length range: Single Random Length (SGL), Double random Length (DRL )Fixed length 20 ft (6 m) and 40 ft (12 m)
Surface Coating: Epoxy coatings in 3PE or FBE, Black paint, varnished, anti-rust oil, galvanized, zinc coating thickness weight is 550g/m2
ASTM A53 Pipe Applications
Transmission: Oil and gas pipeline systems, water treatment, mineral slurry
Construction and Structure: Buildings, underground water drilling, boiler water transmission
Machine Parts: Machining to spare parts
Power station: Wind Turbines, Anti-Static tube
A53 pipe Raw Material – Carbon Steel Pipe
The steel for making ASTM A53 pipe (both for seamless and welded) shall be according following processes: open hearth electric furnace, or basic oxygen.
Raw steel material of different grades are independently strand cast identification of resultant transition material is needed. Manufacturer should remove transition material by any established procession that could clearly separate the grades.
The welding seam for ERW welding processes in ASTM A53 Grade B pipe should be done heat treatment after welding to a min of 540℃ 1000℉.
Consequently, there is no untempered martensite remains, or use the other ways of non untempered martensite remains.
For cold expanded, the expansion amount shall not exceed 1 1/2% of the pipe diameter.
Material Types for ASTM A53 Standard
a. Seamless Type S, has grade A and B.
b. Welded Type E (ERW), Grade A and B.
c. Furnace Welded Type F, Grade A only.
ASTM A53 pipe chemical composition and mechanical strength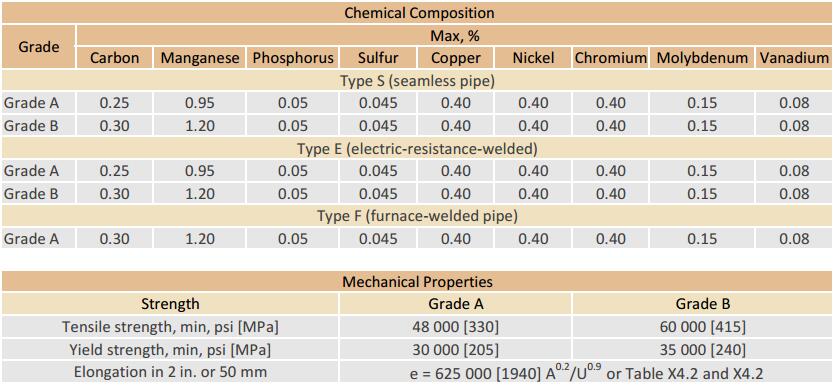 Enpro offers ASTM A53 in stock and new.
Material available with seamless and welded in ASTM A53 Grade B and A.
Related Piping Material
---