Our Supply Range
Standard: ASTM A106, ASME SA106 (Nace MR0175 also applicable for H2S environment).
Grade: A, B, C
Outer diameter: NPS 1/2", 1", 2", 3", 4", 6", 8", 10", 12" up to NPS 20 inch, 21.3 mm to 1219mm
Wall thickness: SCH 10, SCH 20, SCH STD, SCH 40, SCH 80, to SCH160, SCHXX; 1.24mm up to 1 inch, 25.4mm
Range of length: Single Random Length SGL, or Double Random Length. Fixed Length 6 meter or 12 meters.
Ends type: Plain end, Beveled, Threaded
Coating: Black paint, Varnished, Epoxy Coating, Polyethylene Coating, FBE, 3PE, CRA Clad and Lined.
We shall explain from different aspects that why ASTM A106 Grade B pipe has so large requirements in the markets:
ASTM A106 standard specifications
ASTM A106 is the standard specification for seamless carbon steel pipe applied for high temperature services.
Dimensions Schedule Range
The standard covers pipe sizes in NPS (National Standard Straight) from 10.3mm DN6 – 1219mm DN1200 (1/8 inch to 48 inch), complied with ASME B 36.10M. But other sizes out of this B36.10 also could apply the A106 standard.
ASTM A106 Pipe Specifications
Raw materials
ASTM A106 standard raw material is carbon steel, it shall be applicable for bending, flanging or similar forming processes.
ASTM A106 Grade B Pipe Chemical Compositions and Mechanical Strength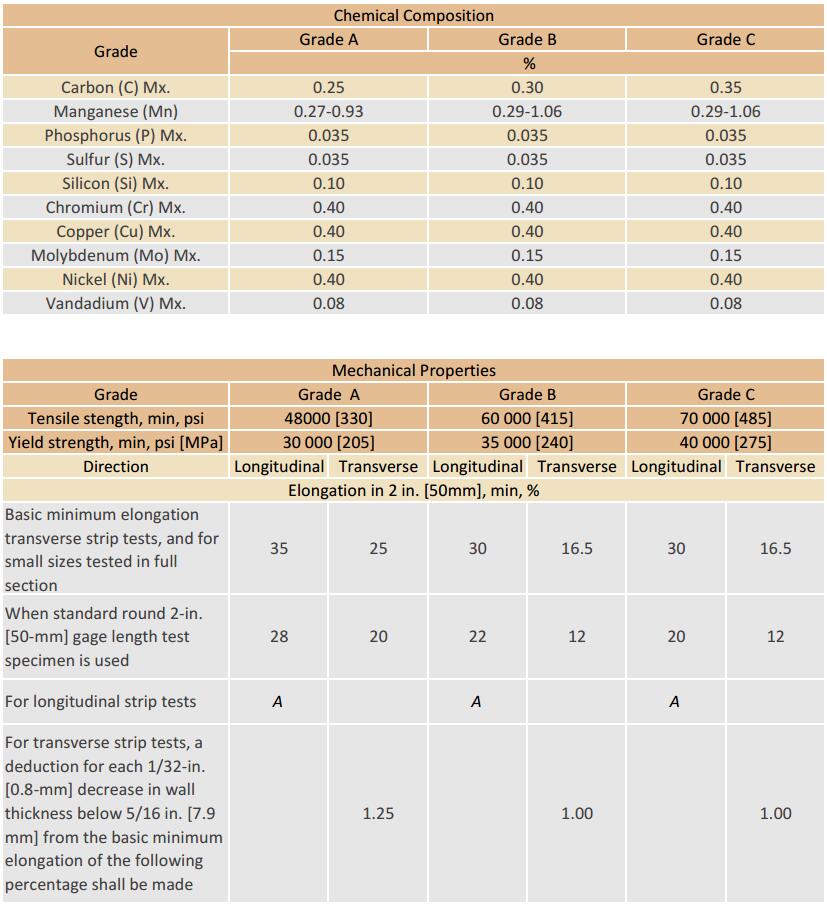 ASTM A106 Pipe For Sale
Send us an inquiry for A106 pipe and we will reply you with the price in 2 hours.